Koozie
($5.00 ea - USD)
These are not the cheap thin kozzies, the only ones better than these are the neoprene ones, but they are twice the cost.
These are nice kozzies.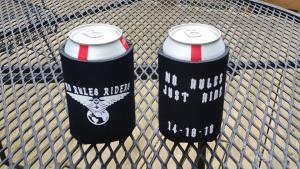 License Plate
($5.00 ea - USD)
Black plate with a white NRR logo.
This plate is metal and the white areas are raised.
The diamond plate license plate holder does not come with it.
This picture is the NRR plate on my truck front bumper.