20 year Anniversity
($10.00 ea - USD)
This shirt celebrates the 20th year of Riding Free. This is a limited-production shirt. When they gone, they are gone.

LARGE ONLY

No Rules started way back in 1999 with MillerTime and myself (Michael Frederick Kemmeries). The idea of a motorcycle group with no rules was conceived at a firehouse that we both worked at, this is the reason for the thin red line. The thin red line represents the roots of NRR starting with two professional firefighters.


On the back of the shirt is a list of all NRR's current chapters as of July 31st, 2019.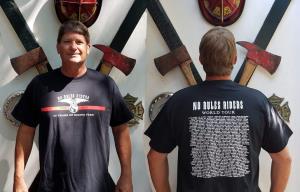 Chapter Advisor
($4.50 ea - USD)
As we all know No Rules Riders is different than any other riding group out there. NRR has no Presidents or other authoritative roles, but we do have people that take on leadership roles. This CHAPTER ADVISOR patch shows who is the person who speaks for the chapter along with showing their responsibilities of advising chapter members in their chapter.
Patch Size = 1 x 4