License Plate
($9.00 ea - USD)
Black plate with a white NRR logo.
This plate is metal and the white areas are raised.
The diamond plate license plate holder does not come with it.
This picture is the NRR plate on my truck front bumper.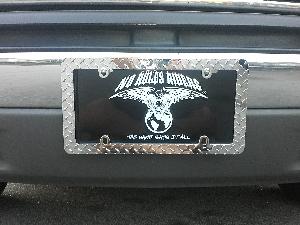 NRR Ring - fat
($80.00 ea - USD)
These ring are sterling silver
¼ inch wide
NRR * 14 – 18 – 18 * is in a circle on top of the ring

These rings are made to order. The turn around time is 2 months.
I will need to know your ring size.