Koozie
($5.00 ea - USD)
These are not the cheap thin kozzies, the only ones better than these are the neoprene ones, but they are twice the cost.
These are nice kozzies.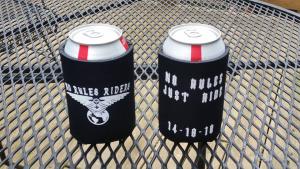 Licence Plate
($10.00 ea - USD)
Black plate with white NRR logo.
Frame in pic does not come with it.
SEND Mike money
($130.00 ea - USD)
Lanie Phelps, this is for you
Toy Ball
($2.50 ea - USD)
This is a soft foam baseball that is 2 3/8"

My dogs love playing with these.