20 year Anniversity
($10.00 ea - USD)
This shirt celebrates the 20th year of Riding Free. This is a limited production shirt. When they gone, they are gone.

No Rules started way back in 1999 with MillerTime and myself (Michael Frederick Kemmeries). The idea of a motorcycle group with no rules was conceived at a firehouse that we both worked at, this is the reason for the thin red line. The thin red line represents the roots of NRR starting with two professional firefighters.

On the back of the shirt is a list of all NRR chapters on its birth date of July 31st of this year.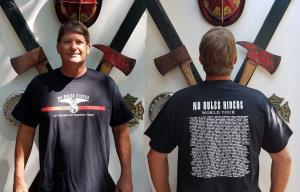 NRR Flame/Cross, Black = front centered cross
($13.50 ea - USD)
100% Preshrunk Cotton
Black

This is the most popular shirt that I sell

2XL and bigger are on the other page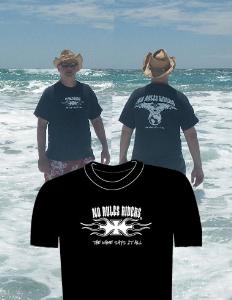 NRR Flame/Cross, Gray - Charcoal
($13.50 ea - USD)
We now have 3 different gray shirts. This is a little darker than the other two. In the pic below, it's the one on the right.
WHITE INK on Charcoal color shirt.

The back of the shirt has the No Rules Riders logo.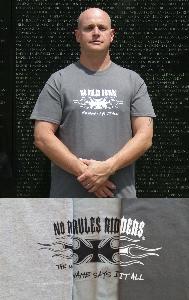 NRR Flame/Cross, White
($13.50 ea - USD)
100% Preshrunk Cotton
2X Large and bigger are under the tab that says "Men's 2XL and Bigger"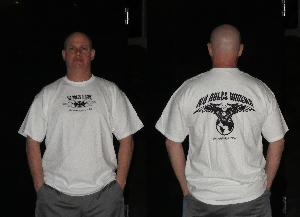 NRR Tribal Sunburst = Black
($13.50 ea - USD)
This design was done before the NRR Eagle was conceived.
Black shirt with White ink

Front has a white sunburts
Back has the NRR logo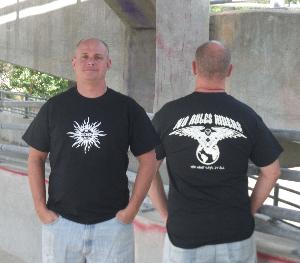 Pocket T-Shirt
($14.50 ea - USD)
Here is the first "pocket NRR t-shirt"
I designed a new logo for this shirt. The top rocker says "NO RULES RIDERS". The bottom rocker says "EST. 1999"
In the middle is the cross that No Rules Riders has used since the beginning. This cross was used before the Eagle/Globe logo was conceived.